King of Mardi Gras; New Orleans
My advice for Street Photographers? … New Orleans
Bus Stop; Miami
If you really want to know life on the streets, get close up and discover something wonderful. Put away your telephoto lens.
Robin; New Orleans
I found him on Royal Street. He now has a seat in my Ark of Interesting People.
Kenny; Miami
Two Bottles of Water
Kenny told me, "On the streets you need a Guardian Angel and mine is Michael Jackson."
King Charles; New Orleans
He introduced himself as King Charles, The Voodoo King. He makes his hats out of paper bags. Photographed on one of the many richly textured walls that make great backgrounds in the French Quarter.
Young Man Named Coon; Santa Fe, New Mexico
After 40 years of working with people on the street, I can't deny the adverse role that drugs and alcohol play in many people's stories. Add to the mixture bad parenting, abuse, mental illness and lack of comprehensive healthcare and we may have the necessary puzzle pieces to reduce suffering. "Simple NOT Easy"… but the thought does set me afoot.
Baron and Jinx; Austin, Texas
"You can tell by the kindness of a dog how a human should be." Captain Beefheart
Dorothy; Texas
I've photographed Dorothy several times over the years. Her partner just left town and she was a bit heartbroken in this photo. I tried to cheer her up with conversation and coffee.
Tim; New Orleans
Sometimes a simple portrait, nicely executed, can reveal a bit of the soul.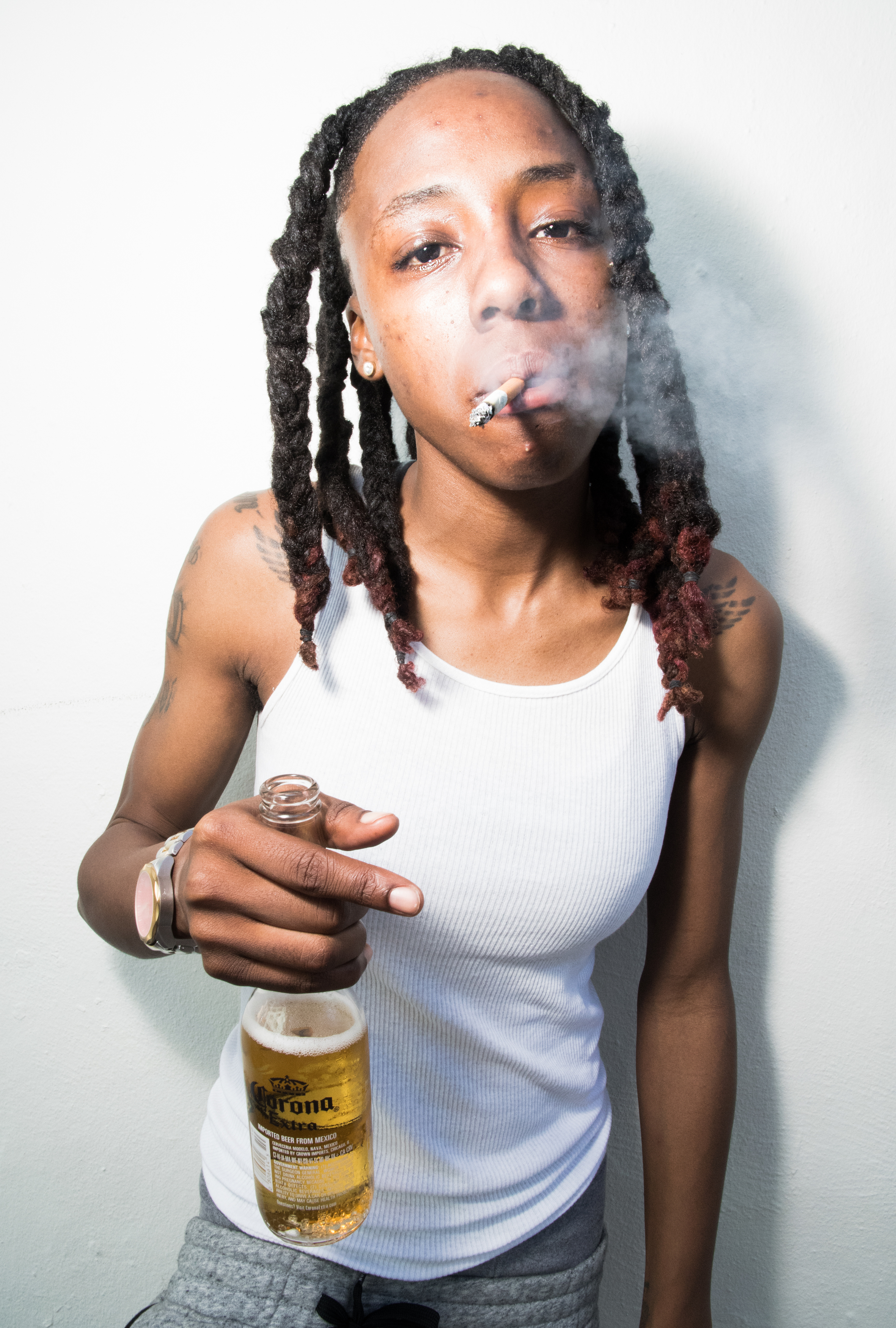 Streets of Miami Beach
I like wandering the streets cause at heart... I'm a Street Rat.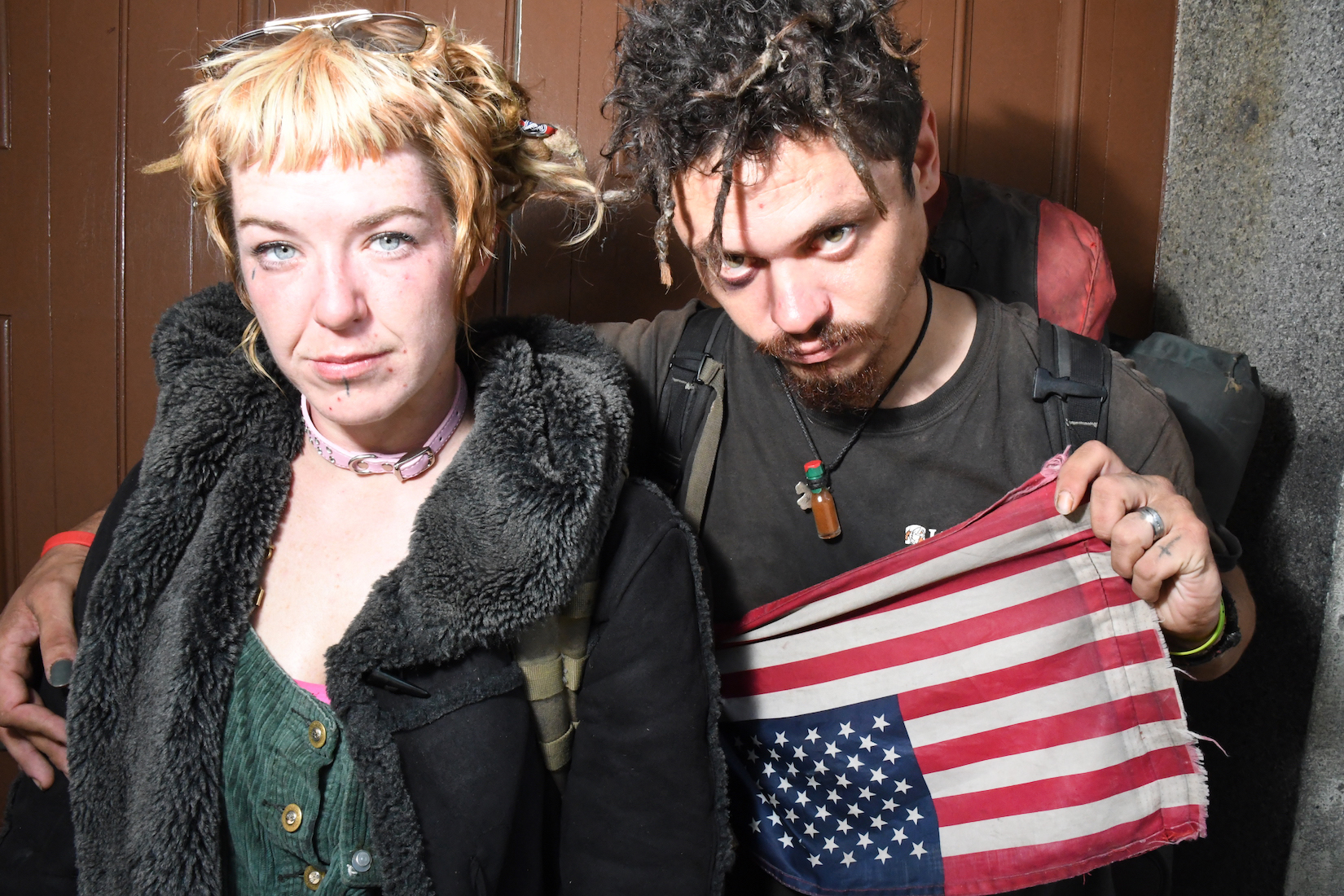 Kat and Freddy; New Orleans
"We are travelers, train-hoppers and every year we return to New Orleans to get remarried."
Street Fashion; New Orleans
Real Street Fashion in the wild….. naturally caught on the streets of NOLA.
Marshall; Texas
After the bars close at 2am, Marshall collects the cans. He works all night and by morning has an impressive pile worth up to $40.
American Gothic; New Orleans
"The worst thing about being a tourist is having other tourists recognize you as a tourist." Russell Baker
Street Fashion; New Orleans
"The best fashion is on the streets. It always has been and always will be." Bill Cunningham
Gangs Of Santa Fe
Street photography's fun because when done right, there's always a small element of danger.
Seekers Of Light; NYC
"Light makes photography. Embrace light. Admire it. Love it. But above all, know light. Know it for all you are worth, and you will know the key to photography." George Eastman
Buskers; New Orleans
Wandering the streets, camera in hand, is my delight and my obsession.
The New Royals; Texas
His friends were yelling, hurry up, hurry up! I had about 5 seconds for this shot.
Mr. Woodstock; Texas
It was a quiet chance meeting. No conversation was had .... peace and love.
Dot and Bernard; Texas
3 Dollars and a Sandwich
How does one photograph poverty? I mean it's so overdone and it's really hard to get a great shot, a unique shot that honors the subjects as well as the legacy poverty images of Dorothea Lange, Walker Evans and Mary Ellen Mark. On the street, Dot and Bernard reached out to me for help.... and that's how this image came to be.
Illustrated Man; South Beach Miami
He was in the park. Guys with this much ink are usually glad to pose for a portrait. Please note, I said usually.
Grand Central Station; New York City
I asked if I could take her portrait while she smoked. I thought she was interesting and the winter light, just then, was incredible.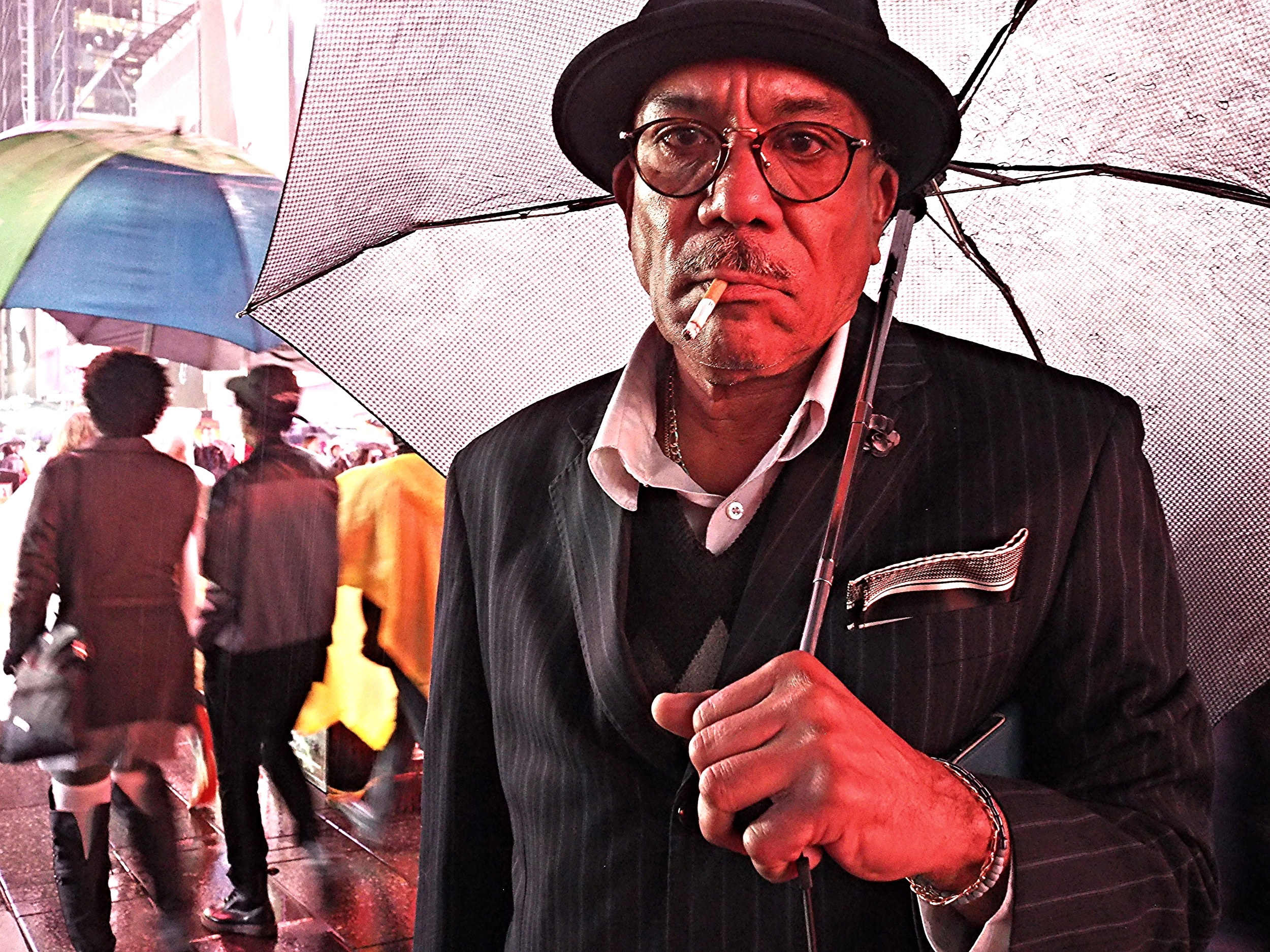 Times Square Lights; NYC
Shot under a blinking red 200 ft. tall sign...
The Immigrant; Miami
"Considering our history, I can think of nothing more American than an immigrant." Conor Oberst
Sideshow; Venice Beach California
One second after this shot, the Carnival "Barker" started screaming at me for money. Learn to move quickly on the street, get the shot, then become invisible.
Silver Man; New Orleans
My joy is to spend the rest of my life making images with people who are often considered to be outside the boundaries of social acceptability.
The King of Miami
Every street photographer in Miami seems to have a shot of … The King. Sometimes known as Santa Claus, he's one of my favorite characters on the streets of Miami.
Pepe; San Francisco
"I really believe there are things nobody would see if I didn't photograph them." Diane Arbus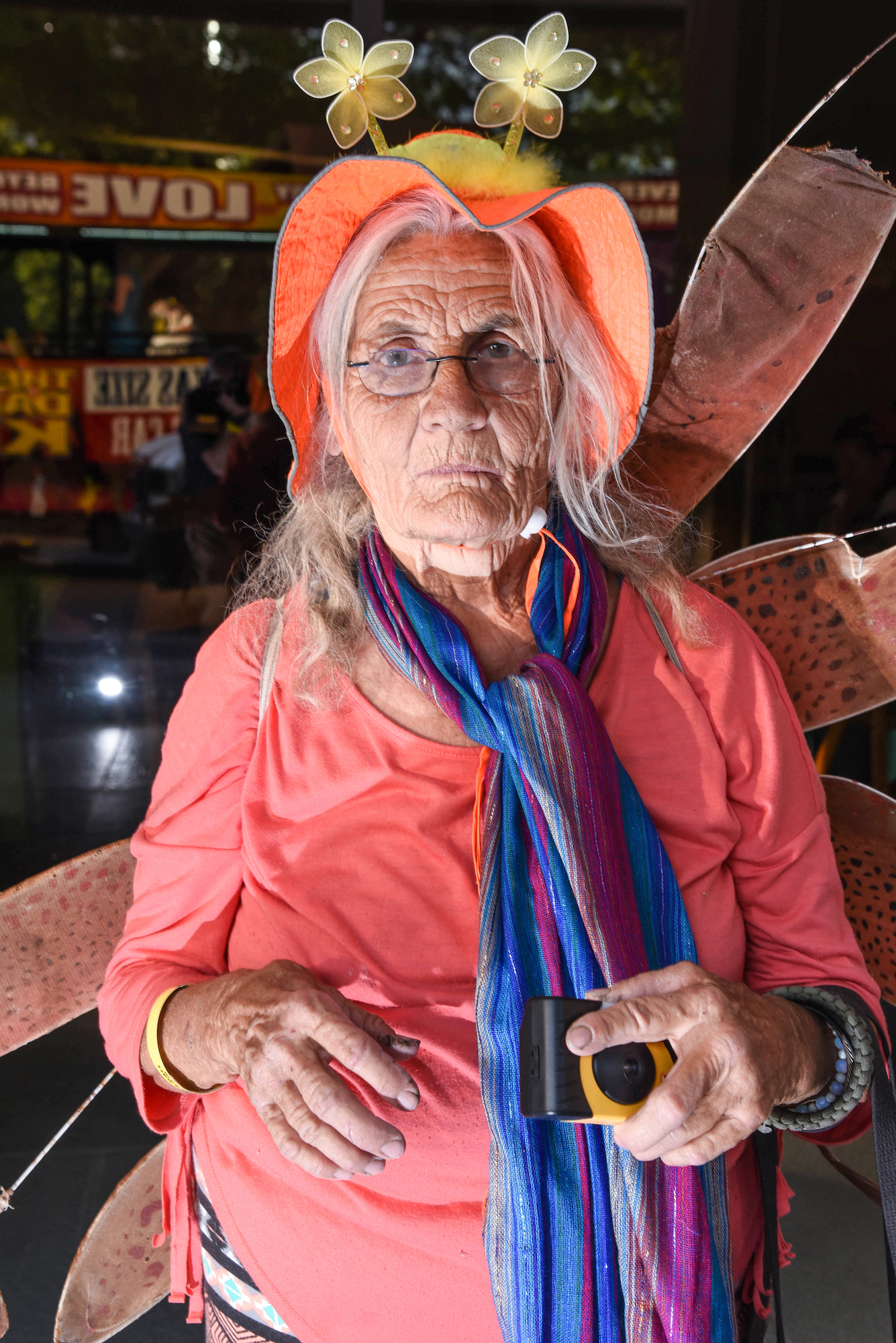 Fountain of Youth; Texas
There is great beauty in an old woman with a young heart.
The Illustrated Woman; Texas
I loved the light and texture of the wall… so I waited there… and she appeared.
Forrest; San Francisco
Forrest let me take his portrait so in support, I purchased a 5 Dollar "Tips and Toes" Care Kit.
The Mariner; San Francisco
"And I shall watch the ferry boats, and they'll get high on a bluer ocean against tomorrow's sky. And I will never grow so old again and I will walk and talk in gardens all wet with rain." Van Morrison
Justin; Miami
Hungry, homeless and playing his guitar. We had Diet Coke and Pizza as we talked about life over lunch.
Vesuvio
They had partied all night long. I took this photo the following morning inside Vesuvio, a famous San Francisco Bar where Jack Kerouac and his "Beat Generation" Friends used to hang out. I was reminded of a younger me, when I was quite the party animal myself.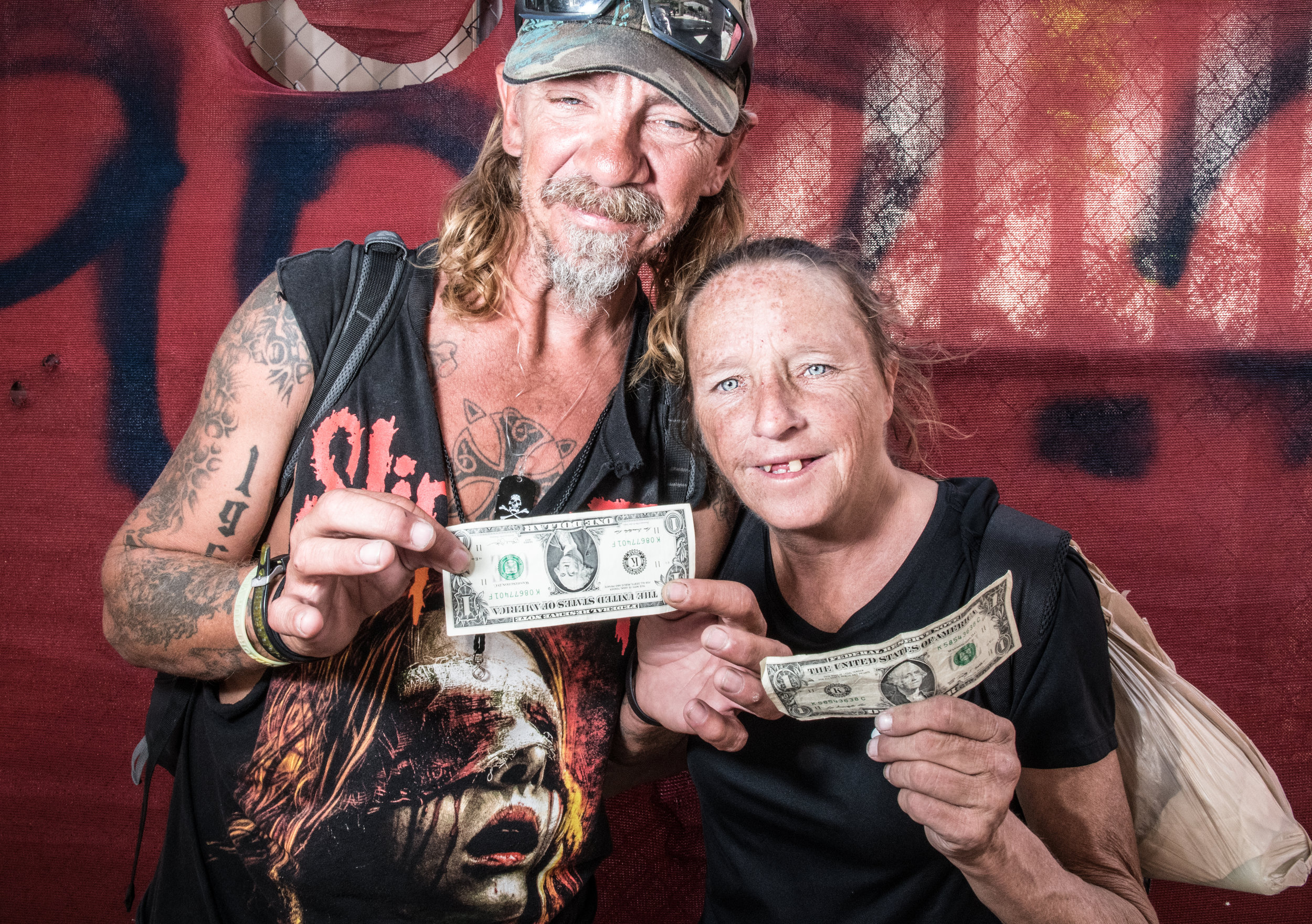 Give and Take; Miami
MY code of street photography: If you grace me with your image and need bus fare or a sandwich... I will rejoice in giving back to you. Give and take. It's MY code, as some feel by helping subjects you somehow "dirty" the art and encourage begging.
Street Portraits